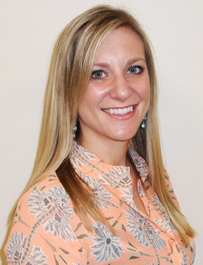 Jana Miller, PT, DPT, COMT
Jana graduated with an Bachelor's of Science in Kinesiology from the University of Illinois and received her Doctorate of Physical Therapy from the University of Illinois at Chicago in 2006. She completed extensive continuing education since graduating and became a Certified Orthopedic Manual Therapist via Maitland Australian Physiotherapy Seminars  in May of 2013. Jana has eight years of experience working with the orthopedic and musculoskeletal issues, as well as overuse injuries and post-surgical rehabilitation. 

"Manual therapy is my passion, specialty and my focus. It is amazing how the simple act of touch heals. I am concerned with the patient's needs above all. I use the assessment and treatment of the patient's signs and symptoms to develop an effective treatment plan with understanding the underlying diagnosis, pathology and biomechanics to help the patient restore function and overall mobility."
Jana's Clinic Hours
Tuesday: 8:30am-5:00pm
Thursday: 8:30am-5:00pm
Friday: 8:30am-3:30pm