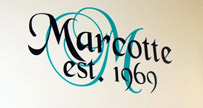 A True "Family Practice"
Marcotte Medical Group was started in 1977 by Dr. Gary Marcotte. After working with another colleague briefly, Dr. Marcotte began his own practice in January 1980. He was joined by his wife, Christine, in 1990. The Marcottes' original office was located in Lansing, Illinois.
As their practice expanded, MMG moved to the town of Crete, Illinois in 1997, until relocating to a larger building in Peotone, Illinois in 2002. In 2004, they were joined by their son, Trevor.
Construction on an even bigger and better facility began in 2006, as Trevor's wife, Sandra, joined the practice. Marcotte Medical Group was officially relocated to their current site in Dyer, Indiana after closing their Peotone location in 2007.
Today, the MMG facilty is comprised of two buildings, complete with labratories, large waiting rooms, an xray facility, and a physical therapy facility. The Marcotte family is joined by two family practice physicians, four nurse practitioners, three physical therapists, and over twenty visiting specialists.